Eating while fasting? How does that work?
The Prolon fasting-mimicking diet is the newest form of the ancient practice of fasting. But what exactly is it?
For centuries, fasting has been used to promote mental clarity, physical rejuvenation, and spiritual awakening. Today, fasting is a " diet darling," currently being researched in over 2800 clinical trials. Some of the questions being posed include:
Does fasting slow aging?
Is fasting beneficial for weight loss?
Can it help manage illnesses, including autoimmune diseases, depression, and cancer?
There are several ways to "fast," some forms of fasting exclude food for certain hours in a day, while others eliminate food completely.
The newest form of fasting, the Fasting Mimicking Diet (FMD), also known as the Prolon diet, is now in the mix. It is an approach to fasting that effectively tricks your body into thinking it is fasting while allowing some food intake. A fasting-mimicking diet aims to reap the benefits of fasting while minimizing the challenging parts of fasting, such as hunger, fatigue, and headaches.
Sounds too good to be true? Solid science is behind the claims, and more studies are in progress. Let's look into the Prolon fasting-mimicking diet and what the research says so far.
*Dr. Burkhart has no financial affiliation with Prolon. She is receiving no monetary or product compensation for this article.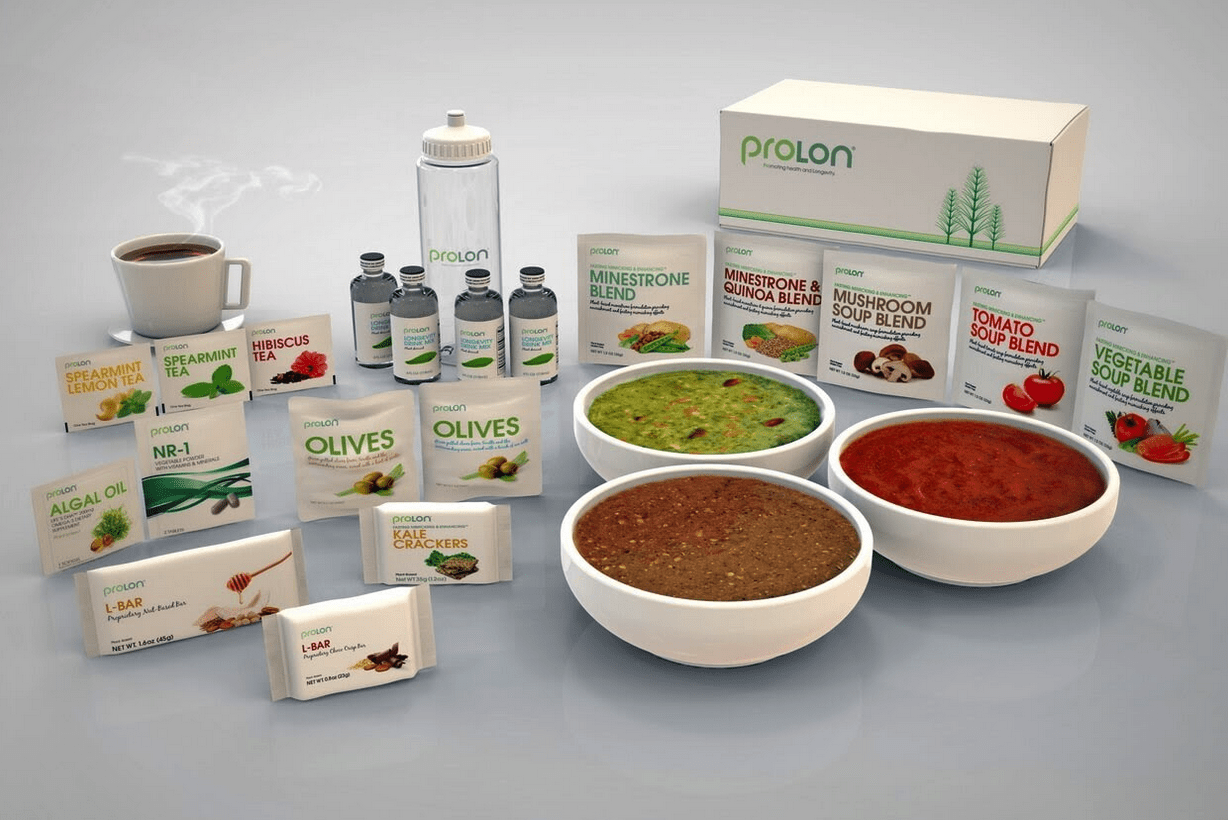 What Is A Fasting Mimicking Diet?
A fasting-mimicking diet is a low-calorie, not a no-calorie, eating plan
The ProLon meal kit is currently the only fasting-mimicking diet program on the market*. It is specifically designed (it is real food) to provide nutrients and calories while still fooling your body into thinking it is fasting.
Dr. Valter Longo is at the forefront of the research on fasting-mimicking diets. This is no fad diet. It is based on years of scientific research and is the subject of numerous ongoing studies.
Dr. Longo has over 20 years of experience researching and publishing papers on fasting and millions of dollars in NIH research funding. He is the pioneer/developer of the fasting-mimicking diet.
*Dr. Burkhart has no financial affiliation with Prolon. She is receiving no financial or product compensation for this article. 
How can you eat and fast at the same time?
Dr. Longo and his team at the Longevity Institute at The University of Southern California have been working with pathways in the body called "nutrient-sensing pathways."
These pathways control something called autophagy-a type of "housecleaning" of our body's cells. Autophagy is constantly going on in the body. It is the clean-up crew for all the processes in the cells of our body. Think of it as the garbage truck, taking away unwanted byproducts of cell activity. Every minute of the day, cells work and produce waste in the process. All this work makes "junk" that needs to be cleaned up. In comes the autophagy crew.
The cells in the body do everything to keep us alive such as breathing and making energy. The more clean-up that happens, the better you feel and the less risk there is of health problems occurring in the future. The FMD speeds up autophagy (more clean-up). More autophagy is a good thing. Autophagy helps eliminate "bad" cells in the body that cause disease and promote aging.
The nutrient-sensing pathways are also involved in epigenetic expression. Epigenetics is how your genes are affected by the environment, i.e., why one person gets a disease but the other person with the same gene does not.
This is important. Why does one person with a particular gene get an autoimmune disease or have trouble controlling weight when the other person does not? Epigenetics looks at the reasons why this happens. Could the FMD/periods of fasting affect what genes are expressed? That is a question yet to be answered.
The diet increases cell clean-up.
Dr. Longo's team created a scientifically formulated diet that increases the "housecleaning" (autophagy) in your body's cells. This is the" ProLon Fasting Mimicking Diet."
The diet is five days long. It is recommended to do the five-day plan once a month for three months to see optimal results. Prolon recommends repeating the diet every 1-6 months to maintain benefits.
What do you eat on a fasting-mimicking diet?
The ProLon meal kit is plant-based and includes all foods needed on the 5-day plan.
There are both "meals" and snacks. During the five days, only the foods in the kit are eaten.
The first day of the 5-day plan contains approximately 1,100 calories, with plant-based protein, healthy fats, and low carbohydrate food sources. The mail-order FMD kit is available for purchase without a prescription and delivered to your door. It includes vegetable soups, bars, crackers, olives, and herbal teas.
The plan is five days long and is intended to be done once a month for a minimum of three months. Days two through five contain similar foods as day one but in smaller quantities. The goal for days 2-5 is to consume about 725 calories each day. But this isn't just 725 random calories; the foods and nutrients are specifically formulated to increase autophagy/house cleaning. They do this by their effect on the nutrient-sensing pathways mentioned earlier.
How long can you do the fasting-mimicking diet?
It is a five day program
The ProLon research group recommends a 5-day plan for their fasting-mimicking diet and not longer. The objective is to have the autophagy benefits of cleaning out old and damaged cells while preserving muscle mass.
How much does the ProLon Kit cost?
It is listed on the website for $249.
The ProLon Fasting Mimicking Diet is the only fasting-mimicking diet meal program that has gone through clinical trials. The ProLon kit includes all of the dietary components needed for the 5-day plan. There are occasional sales on the program. You can also get a bundle discount if you do a subscription or purchase more than one box at a time.
Fasting Mimicking Diet Vs. Intermittent Fasting
It is different than intermittent fasting
Intermittent fasting and FMD are not the same.
Intermittent fasting means that there are periods of the day when no food is eaten. There are different types of intermittent fasting protocols; the most common is called 16:8. In this model of IF, a person has only calorie-free beverages such as water or plain tea for 16 hours. They can eat during an 8-hour window. Calories are not counted, but healthy eating is recommended. The person chooses the 16 and 8-hour windows to allow flexibility, but the hours must be continuous, i.e., 16 hours in a row.
There are other intermittent fasting schedules, such as 5:2, which means two days out of the week in which you do not eat anything and drink only water or calorie-free beverages such as tea.
FMD is different than intermittent fasting. It provides specific foods to promote health benefits and is not concerned with timing or windows of no food at all.
For more information: a list of intermittent fasting protocols
Research On The Fasting Mimicking Diet
Aside from human studies with the FMD and weight loss, most of the completed research on the fasting-mimicking diet has been done in animals, but that is changing. There is now a human study on FMD and inflammatory bowel disease. Currently, many other projects are in progress looking at the effects of FMD on other human health conditions.
Past studies on the FMD show promising results and a step toward similar studies in humans. Currently, the diet is promoted for weight loss and potentially to slow aging. Its ability to help curb particular disease progression or symptoms is still being evaluated, but early findings in animal studies are promising.
Fasting Mimicking Diet & Weight Loss
A large randomized trial* compared FMD with typical calorie restriction. Both approaches achieved comparable weight loss and improvements in risk factors for cancer, diabetes, and cardiovascular disease. Both appeared equally beneficial for weight loss and disease risk reduction (1). *human study
Fasting-mimicking Diet & Multiple Sclerosis
All mice had improved symptoms, and 20 percent of mice with MS had complete resolution of symptoms. No meds, no side effects! The FMD reduced markers of inflammation and promoted a healthier gut microbiome. (2).
FMD & Parkinson's Disease
In this animal study, the fasting-mimicking diet proved helpful for improving Parkinson's disease symptoms and progression (3).
Alzheimer's & FMD
The results of this animal study show that periodic protein restriction cycles protected against age-related changes ((3).
FMD & Diabetes
In this human study, FMD was found to help blood glucose control in type 2 diabetics (7)
Cancer & FMD
Can a fasting-mimicking diet help in the fight against cancer? That can't be said yet, but early results are promising. One research study in mice found that a fasting-mimicking diet could reverse tumor growth. Yes, this is in mice, but wow! Couldn't this be a fantastic addition to cancer therapy if it pans out in humans?
Other studies have looked into how fasting-mimicking diets might work on people with cancer, but they are still preliminary, and more research needs to be done before we can say for sure. See the bottom of this article for other studies on FMD and cancer.
Key takeaways: Fasting - mimicking diets
The fasting-mimicking diet is a specific meal plan formulated to simulate the fasting state while providing nutrients and calories. It does this by finding a "sweet spot" in the body where the benefits of fasting still occur, and pathways that block the benefits of fasting are not activated.
The fasting-mimicking diet is not the same as simply restricting daily calories.
Most of the current completed research on FMDs has been done in animals, but the results are exciting nonetheless.
The FMD does appear to be equally effective as calorie restriction for weight loss. More studies are needed, of course.
Several human trials are in progress using the fasting-mimicking diet for various health conditions.
The diet has the potential to provide an alternative to more restrictive forms of fasting while reaping the benefits of fasting.
The FMD aims for the benefits of fasting without common side effects of fasting, such as headaches, fatigue, and muscle loss.
If you are considering the fasting-mimicking diet, please consult a medical professional before you begin. Fasting is not appropriate for everyone. Learn here: who should not fast?
Podcast On Fasting Mimicking Diet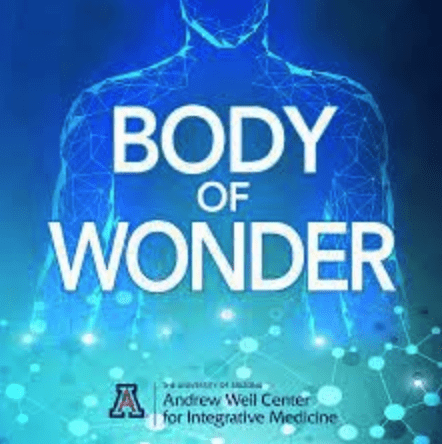 Research Fasting Mimicking Diets ( not all-inclusive)