Questions, Answers & Recipe
What is bulletproof coffee?
Does it live up to its health claims of aiding weight loss and improving memory, focus, and energy? Are there any other benefits or risks to this popular morning elixir, or is the hype too good to be true?  Is coffee low in histamine? And what is the bulletproof coffee recipe anyway?
Let's answer these questions and more and see what a physician and registered dietitian says about the science behind bulletproof coffee and how it fits into your wellness or weight loss routine.
Can bulletproof coffee be decaf?
The answer to this depends on the reason for drinking it.  If the goal is to have a low-carb, keto-friendly beverage, then it does not matter if the coffee has caffeine or not.
For all of us, being well hydrated helps us to feel more alert, no matter the caffeine level. But if the goal is increased energy, caffeine may be needed for a more significant boost.
Carb content of bulletproof coffee
Bulletproof coffee is carb-free unless you make a non-traditional recipe for bulletproof coffee.  It is not, however, calorie-free. The traditional bulletproof coffee recipe contains 240-500 calories depending on the amount of fats you add to the coffee. The calories come from the fats added to the drink.
Does bulletproof coffee break a fast?
There is no concrete answer to this question. The answer depends on who you ask and the specific goal.
If the fasting goal is not to have any calories outside the target eating window, such as intermittent fasting, then any calories during fasting will break the fast. In this situation, the bulletproof coffee breaks the fast.
If the goal of fasting is to induce ketosis. The fats in a bulletproof coffee should not impact ketosis, so having a morning cup would not break the fast.
Can people sensitive to mold drink it?
Most coffee contains mold due to the beans' natural growing and processing methods. Many people are affected by mold and mycotoxins. Bulletproof Coffee claims its beans are free of mold and mycotoxins, but the testing results are unavailable to the public.
Is it safe for people with histamine intolerance?
Coffee is relatively low in histamine and tolerated by many, but not all, people with histamine intolerance. Because Bulletproof brand is a "low mold" coffee, it anecdotally is better tolerated by people with histamine intolerance than many coffee brands. If someone has histamine intolerance, it is recommended to try it in small amounts when first trying it.
What is the science behind bulletproof coffee?
There are many health claims about bulletproof coffee, but almost no studies to support them.
There is only one study to date evaluating the effects of bulletproof coffee on brain function and none explicitly looking at its effect on weight loss. This study found no difference between black coffee and bulletproof coffee's effects on improving focus and concentration. It did, however, find that satiety, the feeling of fullness, was enhanced. Increased satiety decreases appetite and may result in less food eaten later.
Because there is only one published study, future research may find additional information regarding weight loss since fat intake is known to decrease blood sugar fluctuations. Fluctuations in blood sugar are related to weight gain. If the fat content of bulletproof coffee reduces blood sugar fluctuation, it may help weight loss, but studies are needed. Be mindful not to drink coffee too close to bedtime, as poor sleep is associated with weight gain. Stopping caffeine intake by 12-1 p.m. is recommended for optimal sleep.
How to make bulletproof coffee
Basic bulletproof coffee is made by blending butter and coconut oil until foamy and uniform and adding the mixture to the coffee. The creator of bulletproof coffee, Dave Asprey, recommends the following recipe: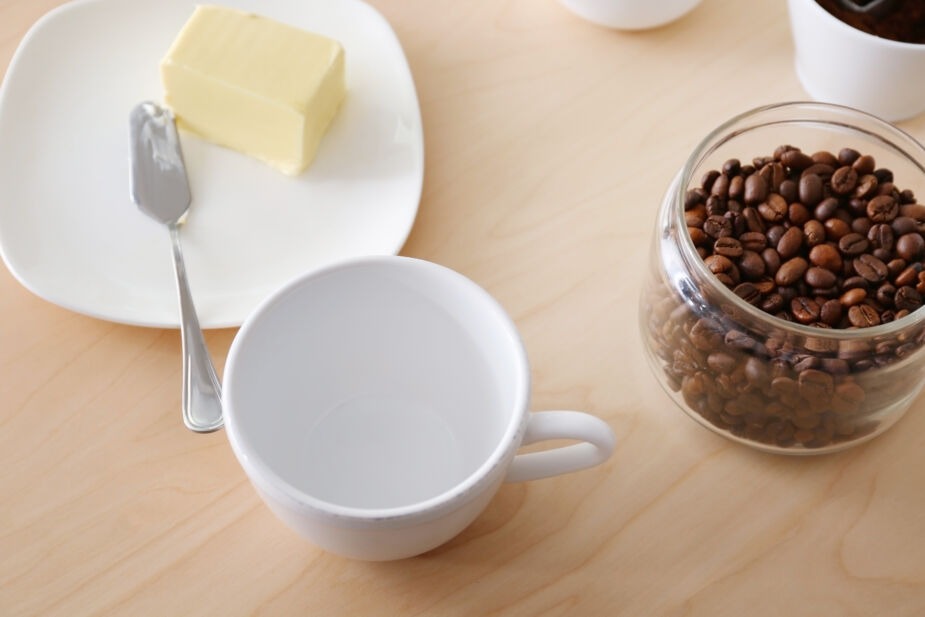 Where to buy bulletproof coffee?
The take-home message on Bulletproof Coffee
While bulletproof coffee may not live up to the panacea of its touted health claims, some benefits still hold true. Coffee improves cognitive function, such as thinking and memory, in the general population and is rich in phytonutrients.  It may also help with weight management, but given there is scarce research on the topic and none on bulletproof coffee precisely, we will have to wait for more solid evidence to determine specifics.
What is true is that coffee is rich in beneficial compounds, a beloved beverage worldwide, and a frequent part of community gatherings. The importance of community on our overall health and well-being is only recently being explored. You can add community to the list of coffee's benefits.