Free Health And Diet Apps
From cooking to mental health
From cooking to mental health, giving, and more…
Let's look at some free apps focused on health and diet, to help you get through the day and keep you well.
I am LOVING this app! Not sure what to cook with the ingredients you have on hand? This is the answer. Enter the items you have in your refrigerator, pantry and spice rack. Click, and up pops an endless list of recipes to choose from. The suggested recipes will only contain the ingredients you have on hand. Save your favorites, search for recipes by key ingredient and more. Make dinner, appetizer, dessert, etc., all without a trip to the grocery store or delivery. Brilliant!

This is a great free app for anyone new to or experienced with, the keto diet. Thousands of recipes, blog articles and more. There is also a shopping guide, nutrient trackers and keto news. The app accommodates keto dieters who also follow a paleo, gluten-free, vegetarian or vegan diet in addition to adhering to a keto plan.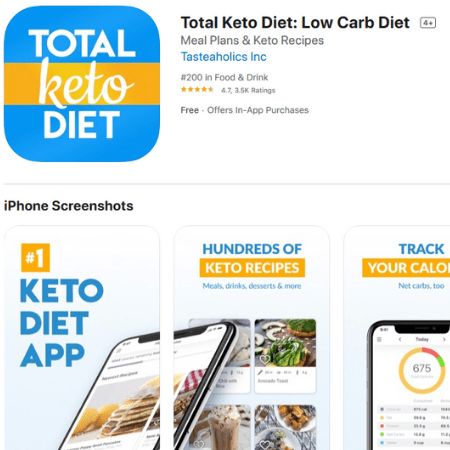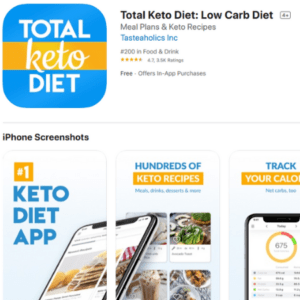 Shopping and dining are taking on a new meaning. Restaurants are struggling and need our patronage more than ever. Pick-up and delivery are available at many eateries. Use these apps to help meet your shopping and dining needs while supporting restaurants. We want these restaurants around when all this is over! You can also take a look at my online article " Online Shopping Resources For People On Special Diets."
Shopwell is a popular yet free app that allows you to scan the barcode/UPC of products to obtain nutrition information. Create a profile with your food allergies, dislikes, dietary goals, or health concerns. Scan any item to see quick nutritional information and learn how it matches your needs. It will also show you products that are a better match for you. Create lists of your favorite finds and share them with family and friends.
Support for health topics and food goals including:
Pregnancy
Gluten-Free
Low FODMAP
Anemia
High cholesterol
Prediabetes
Type 1 Diabetes/Type 2 Diabetes
Alerts for:
Gluten
Peanuts
Soy
Sesame
Eggs
Wheat
Tree Nuts
Corn
Milk
Lactose
Sulfites
FODMAPS
Shellfish

During this Coronavirus time, restaurants are struggling, and take-out is king.  Find allergy-friendly restaurants wherever you are based in the U.S. You can order pick-up or delivery at most. The app offers feedback from diners on how well or poorly a restaurant catered for their food allergy. It gives tips on questions to ask restaurant staff and allows you to add restaurants and comments. AllergyEats provides food-allergic diners with a quick and easy way to find restaurants that accommodate their specific dietary needs. Enter your location or restaurant name as well as dietary restrictions. Sites will be provided for dining options. It has the most options for larger cities.  Specific breakdowns are given for NYC and Washington D.C.

A favorite app amongst the gluten-free diet and celiac communities. By entering a location, you can find restaurants near you that provide gluten-free options. It is crowd-sourced, so information should always be verified. This is especially important for celiac disease, wheat allergy, or severe gluten reactions, as mistakes have been found in the past with recommendations. For the most part, however, it is a handy app for gluten-free dining. I recommend when using it, you continue to ask still all the questions you usually would re gluten-free food preparation, etc. The app is free, but you will need to upgrade and pay for features such as those specific to people with celiac disease.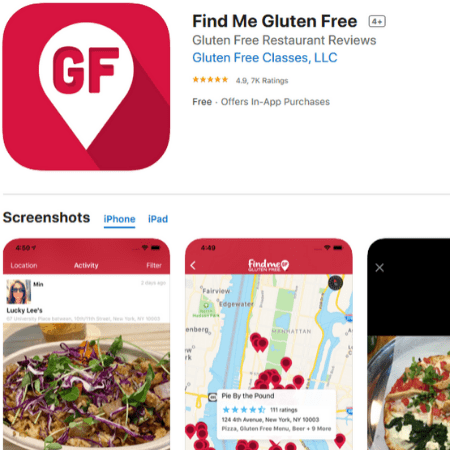 These are stressful times. Self-care is more important than ever. Check out these apps to help you find peace and smile in challenging times.
This is a free app to help ease anxiety. It is customizable to your situation, offers different tracks to decrease worry, lessen anxiety and improve your self-help skills. Their feedback says that 86% of their users saw happiness improve significantly if the app was used 3-4 times a week. Results and bright, cheery graphics will keep bringing you back

Looking to laugh more in these challenging times? The School of  Laughter Yoga has put out this app to get you doing just that.  You may feel silly at first doing the "laugh exercises" but keep it up and you will end up with a smile from ear to ear. It will boost your energy, improve your mood. Even better, the exercises are easy to do. Give your laughter muscles a workout. If you do it in a common area, my guess is that others will be laughing too!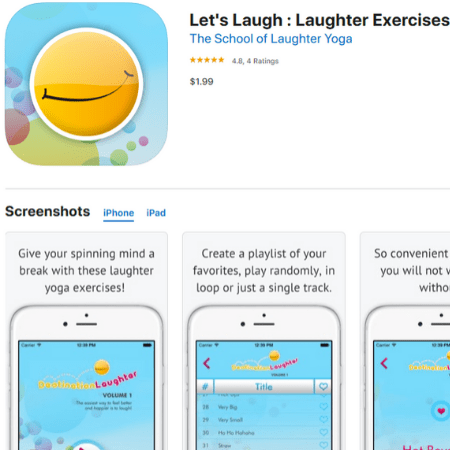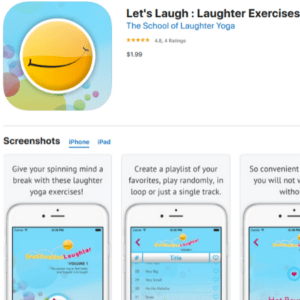 There are many mindfulness free apps on the market. The amazing app Calm is leading the charge but is financially out of reach for some. I want to give folks an option that is free and simple. Everyone can find 6 minutes a day for mindfulness practice, especially one this simple. Begin with 3 minutes of meditation, guided or not, followed by 2 minutes of intentions and one minute of gratitude practice. It is a great way to center yourself and start your day off on the right foot. A very simple tool to do whenever you find 6 minutes to hit reset.
"Six Minutes Daily – a quiet shift will lead to a seismic change in reaching your full potential."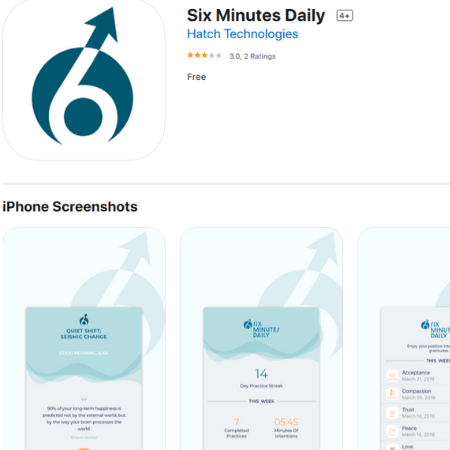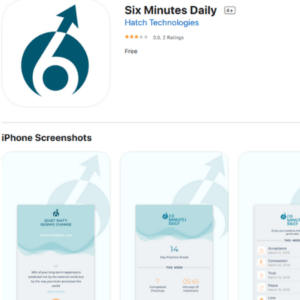 Helping others increases our own joy and happiness. Check out these two apps that give you a chance to donate a little or a lot to people in need. If you are someone in need of help, the apps allow you to apply for assistance.
Through giving we look beyond our immediate world, see the bigger picture and help find happiness in ourselves and others.  Kiva is a non-profit crowdfunding platform that loans money to underserved communities and people in need. During the COVID-19 pandemic, you can donate to small businesses to help keep them afloat during this economic downturn. Through Kiva you can lend as little as $25 and choose how to make a difference. In addition to causes related to coronavirus/COVID-19, you can lend to others in need such as students who need help paying tuition, women starting businesses and families that need emergency medical care.

Donate your spare change to the nonprofit of your choice. There currently are several charities related to the COVID-19 epidemic that is in need of funding. You can also choose other nonprofits from an extensive list. You set your account to give spare change from your daily purchases to the charity of your choice. Create custom fundraising goals and set donation limits.  You can share them with friends and family to multiply your impact. Set it and forget it! One time donations are also accepted.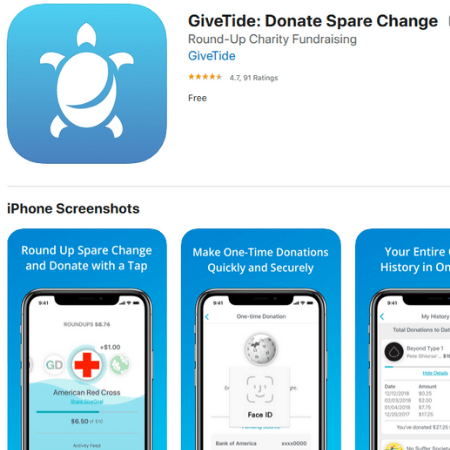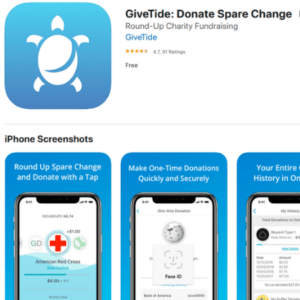 Water, Water, and More Water
Most of us need to drink more water. When we are out of our daily routine, water intake suffers even more. This app here to help.
My water balance keeps track of what percentage of your daily recommended intake you have consumed. You enter your specifics, ht/wt, exercise level, and climate and the app keeps track of your intake. You can enter multiple beverages to include in your water balance ( some require purchase) and set notification reminders. Drink up!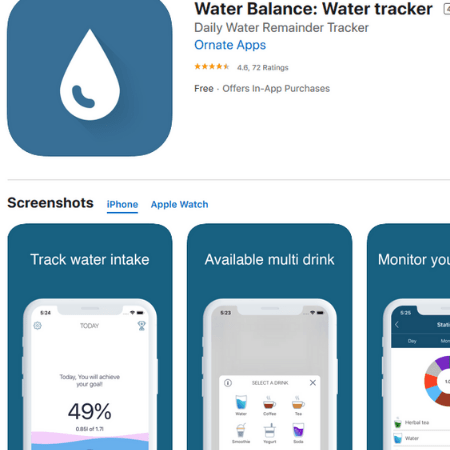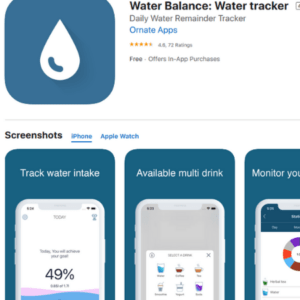 I hope these apps help you get through this challenging time. Feel free to message me if you have others that may be helpful!