I am so excited to launch my new world-wide 100% gluten free restaurant guide. It is free! Traveling is one of my passions, quizzing restaurants regarding food preparation is not. Since this project started three years ago, the number of dining options that are 100% gluten free has grown . This is great news! Dining out is challenging if you follow a restricted diet. The guide is meant to make your daily life and traveling experience a little easier, more enjoyable and safer. Many of the restaurants listed also offer other options such as dairy-free, nut-free, paleo, keto etc.  We have verified every restaurant on the list to assure the site is indeed 100% gluten free. Please email me in the comments section if you have additional sites to add or if a restaurant has closed. I have included as many countries as I have been able to find options in, but would love to have even more.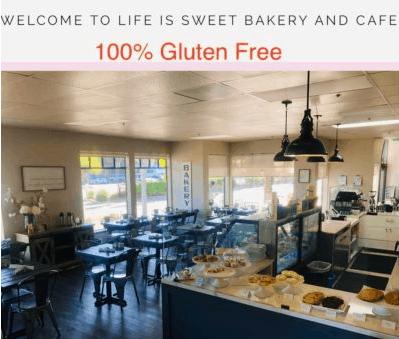 This week I am featuring Life Is Sweet Bakery And Cafe. It is  open 7:30-4:00 Tuesday-Friday & 8-2 on weekends. Breakfast and lunch are both served up to 2pm. Breakfast will fill you up with items like waffles or omelettes. Or, wanting a new option for lunch?  Salads, sandwiches and burgers are available.  But you may want to try pancakes at noon! The owner has celiac disease. Her daughter is a trained pastry chef and the mastermind behind the baked goods and cakes.  Please support restaurants that support diners on restricted diets. And, please share this list with anyone who may benefit. Enjoy!
*As careful as we have been, please verify all information before dining.