Does the popularity of ``gluten free`` making dining out harder for people with celiac?
To some degree, gluten-free dining has gotten easier. More options are available, and smartphones overflow with information. Despite this,  it has also gotten riskier for people who must worry about crumbs of gluten entering their diet. In the past, when inquiring about gluten-free options at a restaurant, you were typically faced with a puzzled look. These days, the reply is often "gluten-free – no problem!" But, for those on a medically restricted diet, a casual approach to gluten-free can be a problem.
Does growth in the gluten-free market mean increased risk to diners?
Restaurants are drawn into the gluten-free market by economic incentives and customer requests. According to a consumer research firm NPD Group survey, 30% of the American population is on or has tried a gluten-free diet. Despite predictions of its demise, the trend seems hotter than ever. Here in the San Francisco Bay Area, a magazine called GFF, dedicated solely to gluten-free "foodies," is thriving.
Restaurants that offer gluten-free selections increase their appeal, customer base, and profit potential. Despite the ever-increasing popularity of gluten-free items offered by restaurants, diners on a gluten-free diet for medical reasons must proceed with caution. Although gluten-free dining options have increased, education on how to institute it safely has not necessarily kept pace.  Diners need to determine if the restaurant staff understands cross-contamination and if the advertised options are really gluten-free.
Does the GF labeling rule help you eat out more safely or limit your choices?
Restaurants are not covered under the gluten-free labeling rule. The FDA does "encourage" restaurants to comply with the labeling guidelines if they state menu items are gluten-free. There is, however, no monitoring of restaurants or legal obligation to adhere to labeling regulations. It is a roll of the dice. Your experience is dependant on the restaurant staff's commitment to learning proper preparation methods.
Do certification and awareness programs mean less risk?
What about 100% gluten-free restaurants?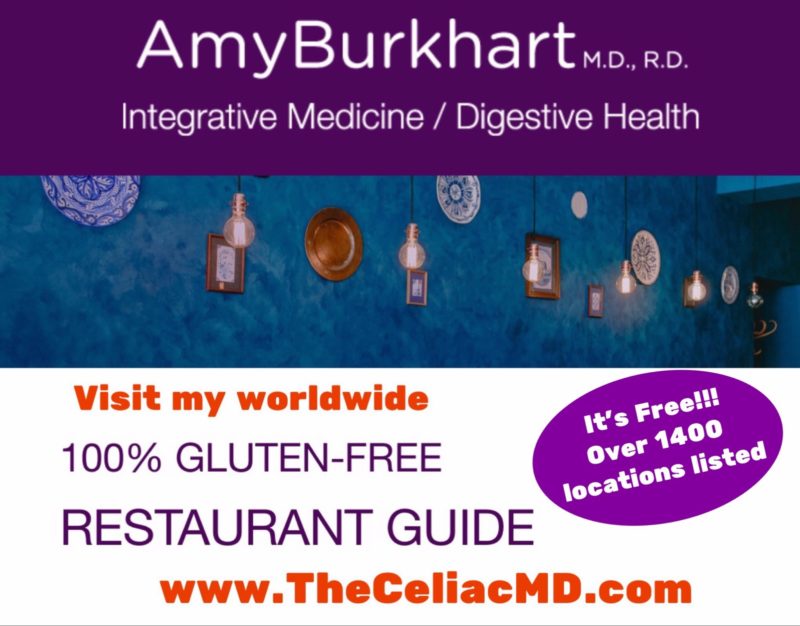 There is much comfort in finding a restaurant that is dedicated to providing a 100% gluten-free environment. The ability to order from a menu without asking the barrage of questions typically required is an immense relief for those on a gluten-free diet. While it is still important to determine whether they understand the gluten-free diet and the importance of sourcing gluten-free ingredients, 100% gluten-free restaurants can provide a much-welcomed sense of normalcy. Please take a look at my world wide 100% gluten-free restaurant guide. It is the complete list of its kind.  As always, please inquire about your visit to their practices.
Using apps and online resources to find gluten-free dining options
There are many apps and websites available for finding restaurants that cater to gluten-free diners. Besides, Yelp and Urban Spoon reviews can be helpful. It is vital to remember these are only starting places to locate gluten-free dining options. The information may not be monitored, updated, or validated. It is always best to question as you would otherwise, even if choosing a restaurant that is "highly recommended." You will never be sorry for asking the questions. You will only be sorry if you don't.
In the end, health matters, but social situations play a close second.
After improving health, dining out is one of the most relevant topics for people on a gluten-free diet. The use of technology provides streamlined access to information on restaurants and dining out. But, it is important to use the information as a base from which to start. Ultimately, the responsibility is yours. Ask the questions and assess the risk. Traveling and dining out on a restricted diet have their challenges. But, it is my hope that we will continue along the path toward more awareness, less worry, and more delicious food.