Trustworthy resources for digestive health information.
Websites
Books
Magazines
Gluten Free and More Magazine
Gluten Free & More has the answers, the support, the food and recipes to let you enjoy a healthy and meaningful life. The leading magazine and website for people living with food allergies, Gluten Free & More features delicious recipes, diet advice and invaluable medical information.
GFF Magazine
GFF is A quarterly magazine for food lovers, GFF celebrates uncompromisingly Good Food (Forever), drinks, and destinations, and the joy of creating and sharing them with others. Each issue features recipes from top chefs, cookbook authors, and bloggers; tutorials for mastering gluten-free cooking; trends, products, people,  travel; lifestyle extras that'll elevate your everyday; and a whole lot of fun and stunning photography along the way.
Gluten-Free Living Magazine
Gluten Free Living Magazine is aimed at those who live with celiac disease, gluten intolerance or follow the gluten-free diet for any reason.
Paleo Magazine
Paleo Magazine is dedicated to providing readers with the information they need to live healthy, active lives. Each bi-monthly issue is packed with the latest research, exercise and nutrition, interviews, inspirational stories, recipes, reviews, and much more!
Clean Eating Magazine
At Clean Eating magazine, you can count on recipes that are made without additives or processed foods. You'll also find the latest health and wellness news, online cooking classes, plus the best non-toxic home, bath and beauty products for living a clean life.
Misc
Green Chef Food Delivery: Certified Gluten Free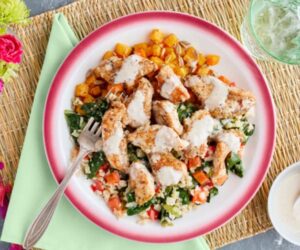 Green Chef is a certified gluten free meal delivery service
Keto · Paleo · Heart Smart · Omnivore · Vegan · Mediterranean · Vegetarian · Gluten-Free · Lean & Clean · Pescatarian
Easy recipes to cook delicious dinners in about 30 minutes. Each box includes new recipes from the meal plan of your choice.
Green Chef delivers almost everywhere in the continental USA.
Three Leaves Foods
Three Leaves Food provides delicious prepared foods to Sonoma County with the finest ingredients possible—locally-sourced, farm-fresh, seasonal, gluten-free and organic as much as possible.